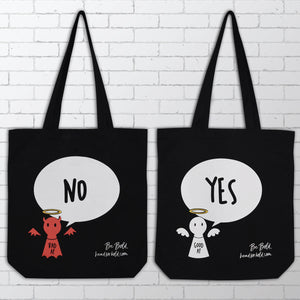 The Bold Tote is a playful and sturdy canvas bag suitable for a variety of lifestyles and purposes. Our re-usable tote bags are great as beach bags, gym bags or just carrying your weekly shop. Stay Bold and sustainable.
Are you a Fairy or Unicorn? Bold Sizing
Small to Medium People & Fairies
Medium to Large People & Unicorns

100% Fleeced Cotton Sequin Hoodies
Chest
41 Inches
45.5 Inches
Length
27 Inches
28.25 Inches
100% Cotton Cropped Hoodies

Chest

34 Inches

16 Inches

Length

38

 Inches

17

 Inches

Oversized Bamboo T-Shirt Dresses / Sleepwear

Chest

41 Inches

46 Inches

Length

33 Inches

35 Inches

Dry-Fit Sports Singlets

Chest

36 Inches

40 Inches

Length

25 Inches

28 Inches
Bamboo Benefits
If you don't own an item of bamboo clothing yet, I promise you, you're missing out. Surprisingly, when I mention to people I meet, Bold t-shirt dresses are made of bamboo, there's usually a surprised look on their faces. Bamboo? As in the plant?
Yep that's right. Which then leads me into a little detail of how amazing the bamboo plant is.
Firstly, the speed in which the bamboo plant grows makes it the fastest-growing in the world. Why is that good? Well, with a yield like that it's the plant that keeps on giving, and when it's cut back it's not uprooted, it's just cut. The same plant just keeps on growing meaning it keeps using the same soil, making it wonderfully sustainable.
The bamboo plant doesn't require fertilisers or pesticides either; its natural ability to thrive in the right conditions makes it eco-friendly as well. Additional watering? Not necessary; bamboo is happy with natural rainfall, reducing its water consumption.
And that's just the plant itself!
Wait until you feel the softness of the bamboo fabric. It's incredibly soft and smooth, and who doesn't crave comfortable clothes!
The composition of the fabric means it's kind to your skin with natural hypoallergenic qualities and it's scientifically proven to absorb moisture away from the skin more efficiently than cotton. So it's great for exercising in bamboo clothing as well.
Beautifully breathable, UV-protective, highly durable with a flattering drape, it's almost too good to be true.
So why don't you own any stylish casual wear made of bamboo? That's a good question.
You can buy bamboo viscose clothing from Bold so easily. I guarantee you won't be disappointed.
#sayitinbold  @BoldorNaked  
www.boldornaked.com
Material & Care Instructions
Don't forget to Care for Me:
Whenever I get dirty, turn me around, & gimme a cold hand wash. Don't put me in the dryer or iron me 'cause I'll burn. If you use bleach on me I'll be screwed. Oh... & sunbaking after a swim ruins my complexion. When I'm clean, don't forget to take me everywhere & always remember to #BeBold.
Each piece of Bold clothing is designed with a s#*tload of love & wine by Kate, & is handmade with care in China by Stella & her friends.



Material Details:
Bold Oversized Bamboo T-shirt / Dress / Sleepwear
Material: 95% Bamboo Viscose,  5% Spandex
Details: Cuffed Sleeves, Rubber Ink Printing

Bold clothing uses bamboo as it's source material. To comply with legislation; because we use the viscose process to turn the bamboo into fabric, we have to label our products as 'Bamboo viscose'. We also have to point out, the viscose process can diminish some of the natural qualities of bamboo. In our experience to date, our products still retain beautiful softness, coolness, durability, crease-resistance, odour-absorbency and are lightweight and UV-protective to 40+. We also blend spandex into the garments to provide the elasticity.


Bold Sequin Hoodies
Material: 100% Cotton, 280gsm Fleeced
Details: Sequin Embellishment, Cut Sleeves, Pocket Front, V neck, Hood


Bold Cropped Hoodie
Material: 100% Cotton - 280gsm, no Fleece
Details: Cut Sleeves, Hood, Cropped


Dry-Fit Singlets
Material: 90% Polyester, 10% Spandex Dry-Fit
Details: Rubber Ink Printing, Scoped Back

Delivery, Shipping & Returns
Great care goes into the making of Bold Clothing & Headwear. We personally check every single piece, and, if it's not 100% to our satisfaction, the piece won't get sent to anyone.
Create an account with us before or during checkout and you can check the status of your order just by logging in!
Delivery: 
Depending on where you are in the world, please allow up to 10 business days for delivery if you choose standard shipping at checkout. You can also choose to select a more expedited option of 2-5 days.
Returns:  
We want you to be completely satisfied with your Bold order!
Items purchased from www.boldornaked.com are eligible for a full refund if returned within 30 days of purchase. We only accept returns of items in their original condition: unworn, unwashed, undamaged, and with all original tags attached. Unfortunately at this time, this does not include custom/made-to-order items. A small number of heavily discounted items may be marked as FINAL SALE, in which case they are also not eligible for refund, exchange, or store credit. Once we receive the product, we will refund you the full cost of what you paid for the product excluding the price of shipping. Exceptions do apply. Check product page for additional Returns/Shipping Information. Individual product pages may state no returns. 
All Sample Sale & Warehouse Sale products are FINAL SALE and cannot be returned or exchanged. 
If you would like to exchange for a new size, color, or style. please email  admin@bebold.ae or Kate@bebold.ae to request your exchange be placed on hold while we await your package. Once we receive your returned item(s) at our warehouse we will send you the new item(s) with complimentary shipping. 
Bold Clothing & Headwear Limited
237 Pukearuhe Road
RD 44
Urenui, 4377
Taranaki
New Zealand
+64 27 2260661
Simple as that.
Please note: Bold Clothing & Headwear is not responsible for any orders that are lost or stolen while in transit.
Canceling your Order:  
If you'd like to cancel your order, please email us at admin@bebold.ae or Kate@bebold.ae as quickly as possible. If your order has already been fulfilled and you have received shipping confirmation, please refer to our return policy above.
Please note that if you paid via PayPal and you request to cancel, you may incur PayPal's transaction fee.
Incorrect Orders: 
If you received the wrong item you can send it back to us and we will replace it with the correct one. All items should be sent back using USPS First Class or Priority Mail, you will receive a refund for the shipping cost.
Lost or Missing Orders: 
Please note that we do ship items separately, and mark them on your packing slip if they will be arriving in multiple packages.
However, if your package is delivered with missing items from your order, then please email admin@bebold.ae or Kate@bebold.ae so we can quickly get your issue resolved. 
Shipping outside of New Zealand - Import Duties & additional Taxes:
Import Duties and other Taxes associated with the delivery of your product into countries outside of New Zealand are unfortunately not covered within your shipping cost and are at the discretion and regulations of the individual country.
Shipping to the United Kingdom:
HMRC (Her Majesty's Revenue and Customs) enforce something called VAT (Value Added Tax) on all goods imported into the European Union worth more than £15 (approx $23.29 USD,  $30.17 NZD).
How this will affect your purchase: You will see that the HMRC will withhold your package and charge you a further duty of 20% VAT (meaning, an additional 20% tax of your total order). Once this is paid, it will be released to you. 
This isn't always enforced as it depends on the postman, but it often is, and will affect everything we 

ship

. 


Apologies for any inconvenience.
Reviews